This month our theme is

ATCs or Fat Pages - Challenge #15

. Y

ou can create any project you like, card, ATC, tags, layouts, mixed–media, altered art, vintage, etc. and can use any products, images, mediums, etc... from any company.
An ATC is an Artist Trading Card

. They

are miniature works of

art created on 2 ½" X 3 ½"

or 64 X 89 mm card stock.
A Fat Page is is a 4 x 4 inch card basically filled with as many goodies as

you can fit to make it "fat" and pretty
Our sponsor is Fred She Said.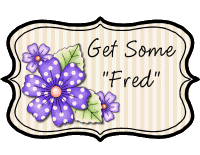 You can see here the wonderful creations Team A have made. Come back next week and I will have a creation for you.
Have a great weekend.

Angela